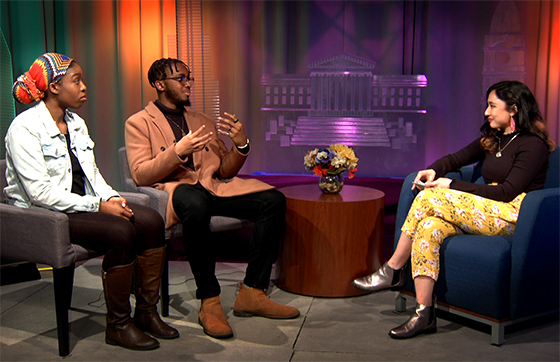 A new, jam-packed episode of The World at Temple premieres on TUTV this week. Host Luv'En-Ya Rowland interviews Qiyue "Q" Sun, writer and director of the series Big Trouble in Little America, a quirky dark comedy featuring four Asian students. Hailing from China, Q worked with film producer Valerie Bailey, a senior in the FMA program, who joins Q to discuss the making of the dissertation project.
Later, Ana Cristina Linares shows the audience how to make Venezuelan arepas in a new segment of Cooking with Cameron, and the co-presidents of the Society of Emerging African Leaders (SEAL) come to the set. Nana Kwasi Nyantakya and Gbemisola Ogunyemi discuss the mission and activities of their group and the differences in their respective experiences growing up in an African country and as a first generation immigrant in the United States.
See this and more on TUTV this Tuesday, April 23 at 2 and 10 p.m.