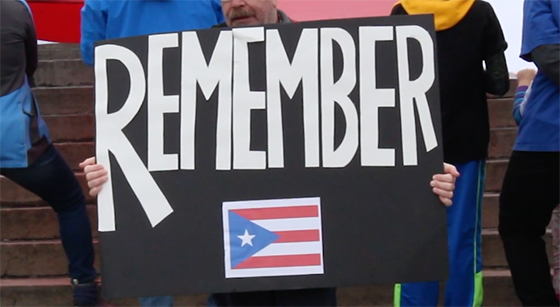 One year after Hurricane Maria devastated Puerto Rico, leaving millions without power and water, the Puerto Rican community is still trying to rebuild their homes, community, and lives. Hundreds of thousands of Puerto Ricans fled in the largest exodus the island has ever seen.
This short documentary directed and produced by Temple University students highlights Philadelphia's Puerto Rican community and their ongoing mourning and recovery.
Produced by Annmarie Ciaccierlli, Colin Faughnan, Olivia Love, Sarah Mammano, Olivia Redden, and Daniela Quintero-Rodriguez for Kristine Weatherston's class, Ave Maria features interviews and footage of Puerto Rico to describe the devastation and perseverance to be found on the island. Watch the premiere on TUTV on Saturday, August 31 at 3:30 and 11:30 p.m.