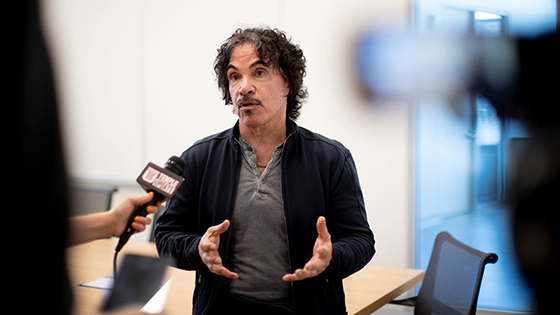 Klein College of Media and Communication launched its Visiting Artist Series on October 21 with alumnus John Oates, KLN '70, one half of the famed musical duo Daryl Hall & John Oates. Oates participated in a panel with other music industry heavy-hitters who spoke on "A Day in the Life" of a music industry professional. Hosted in Charles Library, the event was the first in a series of talks by professional artists who want to share their knowledge with future leaders in the entertainment industry. The event was also a part of the development of Klein College's live events curriculum for students.
Along his musical career, Oates has met and maintained many music industry connections, including the three other professionals on the Visiting Artist Series panel. Anthony Aquilato, a recording engineer and manager; David Haskell, president of Morris Lighting & Sound; and Phil Nicolo, KLN '77 and founder of Philadelphia's Studio 4 recording studio, all gave their insights about the opportunities available to those in the Temple community interested in the music industry.
Oates said of this panel: "It gives students insight into what goes on … in a day of tour. What do these guys do from the moment they wake up to the moment their head hits the pillow again. I think there's this image that it's just the concert and that's when they're working, and we want to make sure they understand that there's a lot more that goes into it."
Watch the full discussion on TUTV this Thursday, January 23 at 1 and 9 p.m.