We caught up with Temple University Media Studies & Production graduate student Gino Canella to learn more about the documentary he shot while studying abroad in England in the summer of 2012. The British Pub, Inc. is a beautifully shot film featuring several interviews with pub enthusiasts and workers who paint a picture of the past and present of the pub industry. At once informative and intimate, Canella's film captures the undying enthusiasm of British pub-goers even as times change and the economy fluctuates. It was presented at this year's Global Temple Conference on Nov. 14 and airs on TUTV on Friday, Nov. 16.
Why did you make this documentary? What drew you to this subject and what made you want to put it on film?
After working in television news for eight years, I always said I wanted to produce a documentary. I think it's an incredibly powerful genre that allows you to tell personal stories that speak to larger social issues. I knew a little about the British pub, but my understanding was more superficial–fish and chips and a couple of pints. After shooting this documentary, I have a more well-rounded view of what the pub means as a cultural institution to the people in the UK. At first, I didn't know exactly how I was going to focus this piece, but knew the pub would be the foundation for the story because it's a fantastic way to get to know the people. It wasn't until I started shooting and interviewing pub customers and consumer groups that I narrowed down the issue of pub ownership and management structures.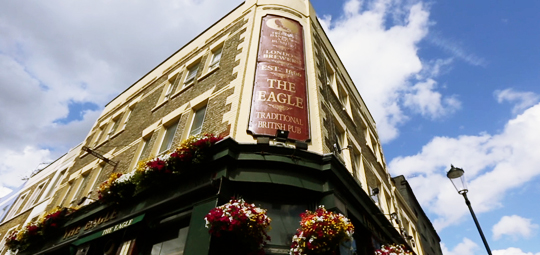 What do you personally think are the main differences between bar/pub culture in America and the UK?
Pub culture in the UK is a social experience that is centered on community. Yes, there is drinking, but the focus is on people, meeting your neighbors, relaxing and having a conversation. A traditional British pub won't have music or TVs, so you're forced to talk with the person next to you. I do think there are great neighborhood bars in America–and especially in Philadelphia–that offer the same kind of friendly environment. British pub customers and bartenders are probably more likely to chat up a stranger, while it may take time to get to know the local bartender in an American bar.
Did you learn anything or meet anyone especially fascinating along the way?
I learned a lot of great things, not only about pub culture and British ales, but also about London that I don't think I would have otherwise. I think the most interesting thing I learned was at the Great British Beer Festival when I heard the history of public houses in the UK. Geoff, the tour guide at Fuller's, was a wealth of information and really added a unique voice to the documentary. I'm always so grateful to people who share their personal stories with me on camera, but Nick Roger was especially friendly and critical to the production of the documentary. A former colleague at ABC News introduced me to Nick. He was so nice, picked me up at the train station in Berkhamstead, and proceeded to drive me around town and take me to a small village pub. I'm forever grateful for his help.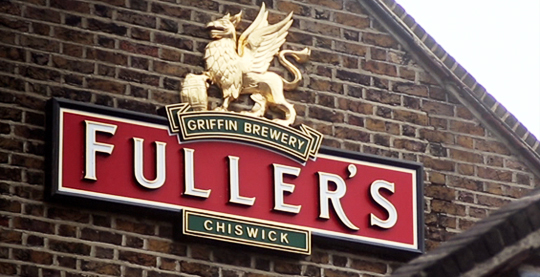 There are many characters in this film; was there anyone in particular you liked the best?
Besides Nick and Geoff, Dave Clark has to be the most memorable character. He was extremely candid about sharing his business experience as a pub manager and I think his perspective was so valuable for the story I was trying to tell. The big chain pubs are making it so difficult for independent, village pubs like The Windmill to survive. Dave expressed the sentiment of probably a lot of pub managers perfectly.
What were your favorite beers that you tried in the UK?
British ales are definitely an acquired taste. They are not carbonated and served at room temperature. Drinking "flat", warm beer is not like anything you would drink at an American bar. I tried to sample a lot of different beers so I don't know if I have a favorite. British pub customers call unique beers and sampling a "tick", because if you try something you've never seen, you "tick" it off your list. ESB from Fuller's was pretty good if I had to pick one, though.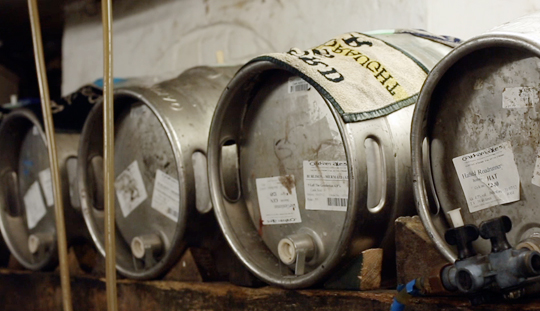 What connection would you say does this film to what you're studying at Temple University?
I don't know if there is a connection with Temple University, but I definitely see parallels between pub ownership/management and my graduate studies. I enjoy finding "theory in practice"–relevant issues in society that speak to what I'm learning in class. In my Media Institutions course for example, we talk a lot about media corporations, the consolidation of media firms and what implications these business structures have for consumers. This is clearly playing itself out in the UK's pub industry. Financial tough times 3-4 years ago forced a lot of pubs to close or sell out to chains. This means less choice for the consumers and less quality and diversity in the pub market. I don't want to give the impression that all pubs in the UK look like Starbucks because great pubs are everywhere in London, but the standardization of an industry should be something consumers are more aware of.
What do you prefer in a bar?
I say it's not where you are but who you're with that really matters. Whether it's a dive bar, neighborhood pub with a great selection of craft beers, or a wine bar, I'm happy as long as I'm having drinks with good-time friends.