Tuesday November 8, 2011 (9AM – 6PM) @ Temple Performing Arts Center
TEDxPhilly is a unique, one-day multi-disciplinary conference, which examines the vast interpretations of the theme: The City.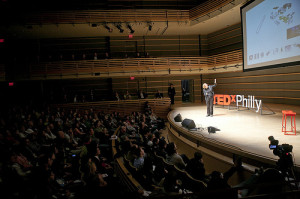 Engaging speakers, impassioned performers, all star participants and awe-inspiring exhibitors will converge to deconstruct, decipher and explore some of the greatest challenges, innovations, concepts and realities that shape and are shaped by the city and its inhabitants.
The TED Conference provides general guidance for the TEDx program, but TEDx events are self-organized. At TEDxPhilly, TEDTalks video and live speakers will combine to spark deep discussion and connection in a small group.
Visit www.tedxphilly.com for more informaion.