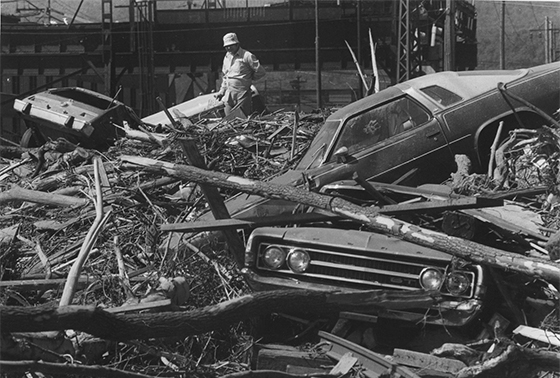 Tune in to TUTV Monday for another hour-long installment of From the Temple Student Film Vault, which presents Temple student film work from the 1970s and 80s to today's audiences.
This week, we again pull from out of the vault three short films from the 70s. First up is Paper Soldier (1973) by D. Appleby, J. Goodman, L. Ponzek, M. Southwell, an experimental film, followed by another short film from Edwin Moses, who made Underdog from the previous episode of Vault. Boxer, from 1975, intimately depicts the training of a boxer in the style of his previously aired work.
Finally, Johnstown, PA (1978) by Bob Cardelli gives us an up-close look at the Johnstown flood of 1977, the lesser known disaster befalling the community of the famous Johnstown flood of 1889. The piece uses photos and footage of the wreckage combined with interviews with residents to give a detailed and harrowing document of the tragedy.
See these historical pieces made by Temple alumni on Monday, January 23 at 1 and 9 p.m.